Some of my photographs and tessellations are just plain overwhelming, with too much going on for a viewer to parse without some sort of guidance to what I see that makes an image worth promulgating:

and
What to do by way of assistance is something I wrestle with, and betimes I suffer notions of what I might do to build explanations and on-ramps for my more enigmatic photographs.
Andy Ilachinski
, always worth attending to, quotes Vladimir Nabokov:
I confess I do not believe in time. I like to fold my magic carpet, after use, in such a way as to superimpose one part of the pattern upon another. Let visitors trip. And the highest enjoyment of timelessness―in a landscape selected at random―is when I stand among rare butterflies and their food plants. This is ecstasy, and behind the ecstasy is something else, which is hard to explain. It is like a momentary vacuum into which rushes all that I love. A sense of oneness with sun and stone. A thrill of gratitude to whom it may concern―to the contrapuntal genius of human fate or to tender ghosts humoring a lucky mortal.

Vladimir Nabokov (1899 – 1977)
My eye went immediately to "I like to fold my magic carpet, after use, in such a way as to superimpose one part of the pattern upon another. Let visitors trip," which seems apposite to my pleasure in mirroring images to find out what else they have to tell us [as Minor White might have said]. Putting aside the butterflies, or substituting rock and wood for "rare butterflies and their food plants", the whole rings pretty much true, but of course what I like to do is unfold the magic carpet. And visitors are most welcome to trip.
I venture out on a photographic adventure and see thing after thing, possibility upon possibility, line and pattern and design, reminiscence and allusion. Many of my digital captures only develop on the computer screen as I recognize unanticipated (or anyhow unconsciously expected) graphic elements, and some only mature once I've lived with the results for a while. That's especially true of those I decide to try tessellating: few images are taken in expectation of their products once mirrored (that is, I rarely see the potential mirror image in the camera's viewfinder), and I can't often predict what the result will be until I try the old flip-copy-join recipe.
And there a difficulty arises. My fevered imagination draws upon a lifetime of images seen and takes special pleasure in graphic analogy. I see things that are manifestly not there. Broot (adept as she is at the abstract) summarizes the difference between our approaches to photographic exploration, "you make something out of nothing; I make nothing out of something." She also notes, sagely, that if she saw all those faces, she'd not be able to see the abstract.
So how can I convey what I discover in my images to audiences? The enigmatic or whimsical title, often alluding to something I draw from the image, is a happy affectation, but doesn't convey its message very clearly to puzzled viewers. I know what I need next, but I'm not sure how to realize it. Herewith an outline, thanks to a book that rolled in a couple of days ago, By the Glow of the Jukebox: The Americans List II [Conceived and Compiled by Jason Eskenazi (Author), Jno Cook (Illustrator)]. This is just the sort of tiny-niche bit of bijoux fugitivia I love to discover and possess, but it needs a bit of explanation.
Robert Frank's The Americans is arguably one of the most influential photographic books of the mid-20th century (first published in 1958), and is still making waves among photographers, still being discussed and influencing the work of new discoverers of its singular (well, multiple) views of America. Here's the Amazon description of By the Glow:
While working as a guard at the Metropolitan Museum of Art in New York City, Eskenazi began to ask photographers he knew visiting the Looking In exhibition [2009] about Robert Frank's The Americans, to choose their favorite image and why. In the years since he quit, as he himself got back out on the road again to shoot, he complied hundreds of photographers' answers in this unique book destined to become a classic in photography education…
I got the first edition of By the Glow a few years ago, and hadda buy the second. I was delighted to find Jno Cook's spare but effective drawings of Frank's photographs, which are just the sort of thing I need to convey to viewers what I see in my photographs and tessellations. Here's one of Jno Cook's renderings of an iconic image from The Americans: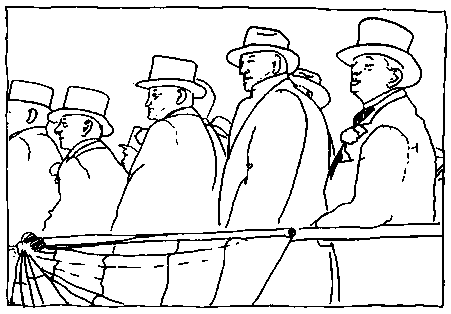 I didn't know it until a Google search just now, but am delighted to find that Jno Cook made
a Robert Frank Coloring Book
(now long out of print and
very pricey!
), so Kentlee's
notion that I should make a coloring book
was prescient as well as brilliant.
But how exactly to proceed? How can I make the drawings that reveal what I see? The technology surely includes Layers in Illustrator or GIMP, and probably the Wacom tablet I bought a while ago with high hopes, but haven't yet managed to tame to my purposes. And of course the skills to create a workflow that I can actually live with…