It's been months since the last post here, almost 3 quite busy months since our return home from this year's cross-continent trip. The last six weeks included a very successful gallery show for Broot and a one-day pop-up show for me, and we're now in Nova Scotia, just finishing another 3-week trip, this one a 55th anniversary circumtransit of the Gulf of Saint Lawrence (four nights by freight boat from Rimouski to Blanc Sablon PQ; ferry from Labrador to St. Barbe, Newfoundland; north to L'Anse aux Meadows, then down the west coast to Gros Morne National Park, then ferry to North Sydney NS, and finally to Horton Landing; home to Maine by the weekend).
The usual welter of thoughts and reading and explorations of this'n'that accompanied, of course, so there's much to get caught up.
The Flickr photostream tells many tales but also leaves out happenings that didn't happen to get photographed. I'm just uploading the bountiful harvest of our week in Newfoundland, and thinking through What It All Means. And wondering what's next. There are Flickr Albums of faces, surfaces and abstracts, and landscapes as a first stab at sorting the hundreds of images.
The perennial puzzlement of how to think about and what to do with the vast array of anthropo- and zoomorphic images of rocks and wood and water seems to be heading toward a resolution, but the complexities and leaps of association that underlie will take some explication. The cut-to-the-chase of the moment is an evolving scheme for a multimedia gallery presentation next summer, the provisional title for which is
Morphic Resonance:
Portraits in Stone, Wood, and Water
but the emergence of that title takes us back more than 3 million years, to the Makapansgat Pebble, which is surely an anthropomorphic form.: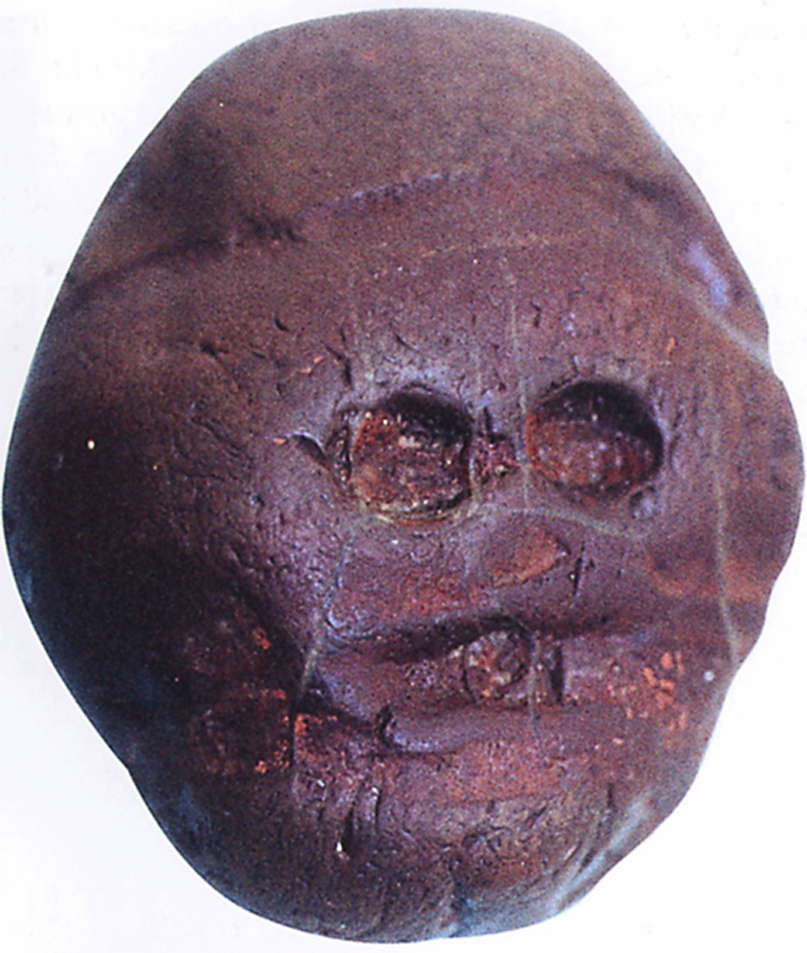 The hominin ancestor who
picked up and carried the pebble
some 20 miles from its geological origin seems to me to represent an early (I'm tempted to claim
the earliest
) instance of aesthetic Consciousness in our own evolutionary branch ["possibly the earliest example of symbolic thinking or aesthetic sense in the human heritage"]). My own pursuit of wholly imaginary faces in various materials seems a direct descendant. I've been chewing over the deeper significance of this for the last year or so (since I learned of the Makapansgat Pebble). A couple of weeks ago the phrase "morphic resonance" drifted through my mind, and seemed somehow portentious (though I can't remember when/where I first encountered it). It turned out to be a coinage of
Rupert Sheldrake
:
Morphic resonance is a process whereby self-organising systems inherit a memory from previous similar systems. In its most general formulation, morphic resonance means that the so-called laws of nature are more like habits. The hypothesis of morphic resonance also leads to a radically new interpretation of memory storage in the brain and of biological inheritance. Memory need not be stored in material traces inside brains, which are more like TV receivers than video recorders, tuning into influences from the past. And biological inheritance need not all be coded in the genes, or in epigenetic modifications of the genes; much of it depends on morphic resonance from previous members of the species. Thus each individual inherits a collective memory from past members of the species, and also contributes to the collective memory, affecting other members of the species in the future.
This seems akin to notions of 'distributed consciousness' with which I've been toying in the last year or so, and surely skates on the rim of mystical hoo-hah. I direct your attention to the Bodhidharma posts of February 2018 for earlier instances, and of course to the Just a Rock: a lithic menagerie book; see also Form Finds Form and Just Another Rock and Allegories and Agglomerations for more kindred threads.